If you haven't tried handcycling yet, you're missing out. Here's how to get started in this fast-growing sport.
By Rene Agredano
The first time Craig Blanchette tried handcycling, he knew there was no going back. A gold medal Paralympic wheelchair racer with 21 world records under his belt, Blanchette was still in the midst of a record-breaking career on pavement. But the moment he hit the trail in a full-suspension, off-road cycling machine, he saw his future. "I jumped ship quickly," he recalls.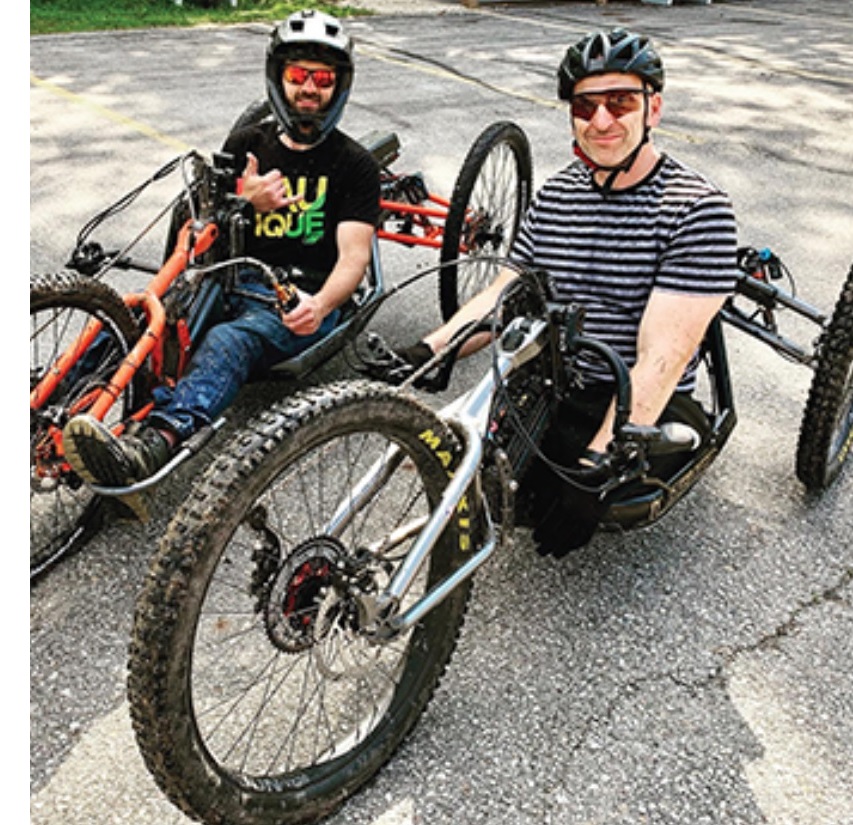 Born without lower limbs and eager to push the envelope in everything he does, Blanchette saw loads of possibilities in off-road handcycling. Now the wheelchair competitor is setting records in a different sport, on a centuries-old vehicle that's finally coming into its own. Amputees of all ages, from casual riders to elite athletes, are discovering handcycling's potential to bring more freedom and mobility into their lives. And these adaptive machines aren't only for people with disabilities. Plenty of able-bodied riders enjoy them as an occasional alternative to leg-powered bicycles, and many wind up switching to handcycling most or all of the time.
These high-tech, three-wheeled contraptions can look intimidating. But learning how to have fun on a handcycle isn't as complicated as it appears. And as the sport grows in popularity, it's becoming easier than ever to try handcycling on the cheap, with little or no up-front investment.
Older Than the Bicycle
At their core, handcycles are upside-down bicycles. They have the same basic mechanics, brake systems, and gearing ratios as conventional two-wheelers. But instead of turning the pedals with their feet, riders sit low to the ground and generate power with hand cranks that turn in unison with the front wheel. The three-wheeled configuration and low center of gravity make handcycles stable and safe, ideal qualities for people with limb differences and other disabilities. And the vehicles' accessible design enables riders of all fitness levels to get out on roads, trails, and bike paths for fresh air and exercise.
Handcycling has been an amputee-friendly activity from the very beginning. Stephan Farffler, the Bavarian watchmaker who's credited with inventing the "manumotive cycle" in 1655, is believed to have been an amputee or paraplegic. As legend has it, Farffler wanted to get to church without assistance, so he put his engineering skills to work and designed the first self-propelled wheelchair.
His innovation predated the first two-wheeled bicycle by more than a century. And although the bicycle (invented in 1817) later emerged as the dominant form of self-propelled conveyance, handcycling has always had a small but fiercely devoted following within the cycling world. That loyal fan base is growing every year, as new customizable components, off-road capabilities, and electric-assist devices make handcycling more appealing and more practical to a growing base of potential users.
For many years, handcycles were only suitable for paved roads and racetracks. Heavy and bulky, they were too difficult for most people with disabilities to operate. Amputees usually rode them while seated in a kneeling position, but these "kneelers" came with a high learning curve. They were designed for competition rather than recreation, so only serious athletes and fitness fanatics could ride them. But recent advances in two-wheeled bicycle technology have also benefited handcycles, making them simpler to use and more diverse in purpose and design. Frames and components grew lighter and more nimble, making handcycles more amateur-friendly than ever before.
Because there are so many types of handcycles available these days, you can now find people pedaling them in all kinds of settings, from city streets to gravel roads to hiking trails in the deserts and mountains. Much like standard bicycles, handcycles can be endlessly customized to fit each individual's age, size, ability, taste, and budget. You can trick out your ride with whatever combination of pedals, grips, seats, and gears you want. Some models come with motors, and others include Bluetooth components that support wireless braking and automatic gear shifting.
Motor-assisted options make handcycling attractive for people who would otherwise never dream of trying the sport. Even hardcore racers have grown to love the technology. Blanchette was initially disdainful of motorized assistance. "I wanted to beat the motors!" he jokes about his early resistance to powered bikes. But after his first electric-assist hill climb during a trail ride with friends, the bio-powered biker was ready to convert. "With a motor, your group stays together and you can keep up," he explains. "You have more conversation."
Affordable Ways to Try Handcycling
"With a little creativity, you're able to get anybody into a handcycle," says Chris Coyne, general manager of Bike-On in Warwick, Rhode Island. Founded in 1999 by adaptive athlete Scott Pellett, who lost the use of his legs at age 15, Bike-On is one of the top handcycling retailers in the country and a hub of the Northeast's handcycling community. Pellett didn't take up the sport until he was past 40 years old, and the sense of liberation was intoxicating. He opened Bike-On a few years later and has helped to introduce a generation of new riders to handcycling.
"It's exciting to get somebody in here who doesn't know what they want," says Coyne. "It's like a blank slate. We lay out all these options, and they have the freedom to pick what really works best for them."
For many people, the biggest obstacle to trying out handcycling is the cost. Basic recreational models for a new ride hover in the $3,000 range, and the accessories (helmet, gloves, shoes, water bottles) can add another few hundred dollars to the tab. "That's the worst part of my job," says Coyne. "I love talking to people, I love fitting people, but it's that end of the conversation—'How much is this thing going to cost?'—that gets to me."
But there are plenty of low-cost or no-cost ways to give handcycling a whirl. Adaptive sports organizations across the United States offer handcycling clinics, demo days, equipment grants, and fundraising programs that get people riding.
"Handcycling is one of our larger sports because it's a great equalizer—anyone can ride a bike," says Katelynn Johnson, programming director of Adaptive Sports Northwest (ASN) in Portland, Oregon. ASN offers regular clinics at places like the Portland International Raceway, giving participants a chance to test and ride a variety of handcycles so they can find a style that works best for their needs.
"The adaptive bike clinic brings in a wide range of athletes, from folks who have never tried a handcycle to athletes who are wanting to try out a different bike," Johnson says. "In general, we get participants who are newer to the sport and are looking to see what it's all about and what riding a handcycle feels like."
Even elite athletes like Blanchette often start slowly with handcycling. At first, he enjoyed the handbike for general fitness and casual rides with his family. His first model's frame was too heavy for tough workouts, but he loved the comfortable riding position and the change of pace from the cramped, narrow racing wheelchairs he used in competition. Blanchette didn't get serious about handcycling as an athletic pursuit until much later, when Lasher Sport introduced its exceptionally light, fully suspended off-road model in 2018. One ride was all it took to put Blanchette's wheelchair racing career to rest and send him off on a new path in off-road handcycling. Drawing on his decades of pro racing tactics, Blanchette quickly climbed into the upper echelon of his new discipline. In 2019, he and his rugged Lasher rig won the high-altitude Crested Butte Off-road Handcycling World Championships. Now he's again racking up medals in a burgeoning adaptive sports field that's just getting started.
But Blanchette still enjoys the simple pleasures that attracted him to his new sport in the first place. Handcycling provides a distinct sense of freedom, he says, unlike any other form of adaptive mobility. And you don't have to be an advanced athlete to enjoy it.
"It's fun to be able to go out in the woods and be self-powered," says Blanchette. "You're out there by yourself. You can go places you could never go in your wheelchair."
---
Today's Handcycles Fall Into Four Main Categories
1. Recreational handcycles are typically built like tricycles. You'll often see them with two rear wheels and one front. The rider is usually in an upright seated position, but the setup choices are endless for riders.
2. Off-road handcycles can take riders to places no wheelchair can travel. The frame and drive train mirror those of recreational handcycles, but off-road bikes have fat, knobby tires and suspension components for comfortable riding on dirt, gravel, and other unpaved surfaces. They often include racks and tows that allow you to bring along outdoor gear for camping, fishing, and other wilderness recreation.
3. Attachable handcycles enable you to convert your regular wheelchair into a handcycle. These units integrate a front wheel, hand cranks, and chain into a single assembly that can mount to just about any wheelchair. They're a great entry point for wheelchair users who want to give the sport a try without investing in a whole new machine.
4. Competitive handcycles are designed for high-level athletes. These racing machines are built with ultra-lightweight carbon fiber frames, and they often employ a recumbent design in which riders lie almost flat on their backs to achieve optimal aerodynamics and cornering speed. Competition-level kneelers are also available.
---
Have Handbike, Will Travel
Neil Russell believes that if he can experience the joys of handcycling, anyone can.
The 36-year-old Russell was born with spina bifida and had a below-knee amputation on his right leg at age 18 to eliminate sores and infections. Since then he has suffered a heart attack and needed to have a kidney removed.
Those physical challenges have never diminished Russell's affinity for the outdoors. He makes his living promoting outdoor recreation to people with disabilities, and this summer he'll be taking his vocation on the road, embarking on a six-week handcycling tour of his native Scotland to raise awareness about adaptive sports.
"I've always had the mindset where, if I think something looks fun, I find a way to make it happen," Russell told the BBC earlier this year. "I've problem-solved and adapted. The drive for me is pushing myself to see what I can do. I want to do the things able-bodied people find much easier to do."
Russell got introduced to handcycling by a friend several years ago, and he immediately felt an emotional connection to the sport. To avoid the stress of cycling on paved roads in traffic, he gravitated toward an off-road model with an electric motor to support him in difficult sections.
About 18 months ago, Russell started raising funds to join a group of handcyclists on an expedition across southern Africa. When those plans fell through earlier this year, Russell pivoted to his tour of the Scottish isles. He'll be pulling a tent, sleeping bag, wheelchair, and other gear behind him in a trailer. Where roads permit, his girlfriend will follow along in a van.
While Russell's destination has changed, his objective hasn't.
"This opportunity is not about going the furthest, the fastest, or the most extreme," he wrote on Instagram recently. "It's about soaking it all up, making memories, and pushing myself further than I have before. I want to inspire others to get out and do whatever adventure they dream of, even if it's not the same type of one as me…. Handcycling really has changed my life and opened up so many opportunities for me. There's so many great adventures on the horizon, and I couldn't be on the path I'm on now without the love and support of so many amazing people. Thank you from the bottom/underside of my mud-soaked handcycle!"
You can follow Russell's journey on Instagram at @handbikepacking.
---
Want to give handcycling a try?
Here's a list of resources to help you get started.
Challenged Athletes Foundation | challengedathletes.org
CAF holds clinics at multiple locations for all ability levels and sponsors handcycling teams for serious competitors.
Move United | moveunitedsport.org/sport/hand-cycling
Many of Move United's adaptive sports chapters across the country hold handcycling events, clinics, and demonstrations.
Expert Village Handcycling Videos | youtube.com/user/expertvillage, then search "handcycling"
Hosted by Paralympic gold medalist Mike Schlappi, this series of short videos provides a wealth of general information and specific how-to tips.
Handcycle Funding Assistance | bike-on.com/cycle-funding
Bike-On lists more than two dozen foundations and funding programs to help kids, veterans, athletes, and average adults acquire handcycles and other adaptive sports equipment.
USA Hand Bike Circuit | usahandbikecircuit.com
Aimed at competitive handcyclists, this resource features information about handcycling races, events, and equipment.
Handcycle Buyer's Guide | handcyclecity.com, then click "buyer's guide"
This resource from online retailer Handcycle City helps you identify which questions to ask to find a handbike that fits your ability level, fitness objectives, and budget.
The Science of Handcycling | journals.humankinetics.com, then search "science of handcycling"
Published in the International Journal of Sports Physiology and Performance, this scientific paper provides a breakdown of handcycling biomechanics.