by Alexandra Boutté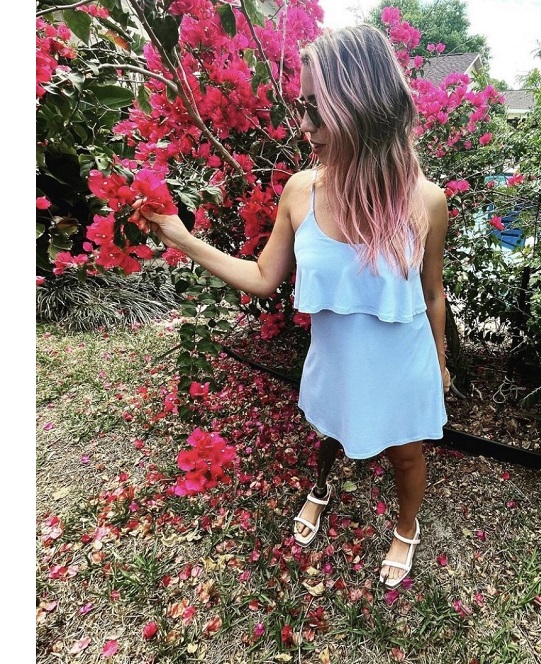 It's sunny, the frozen margaritas are flowing, shorts-and-sandals season has arrived. Cities are reopening after lockdown, and travel restrictions are slowly being lifted. You're feeling ready to gallivant in the sunshine and work on your tan at the beach. The only problem? You wear a prosthesis.
Those of us who live in warmer climates are very familiar with the struggles that come as the temperatures warm up. As a Floridian, I live within what most would consider year-round summer. My nemesis—sweat—is an issue from February to October, with a brief and sometimes non-existent respite around the holidays. So how exactly can you thrive during sweaty season? Here's how I manage it down here in the tropics. You may find some of these strategies useful.
Let's start with the biggest issue—liner sweat. We've all had those days when you can pour a glass full as you peel off your liner. Excessive sweat can cause skin irritation, bacteria growth, and, worst of all, liner slippage, causing your entire prosthesis to slide off in some cases. When I'm planning a full day out in the sun, I always bring a small towel, gentle cleanser, baby wipes, a travel-sized bottle of rubbing alcohol or hand sanitizer, and extra socks. I remove my liner periodically, empty any sweat pooling inside, and wash my residual limb with the cleanser (or a baby wipe in a pinch). I dry myself off and put the liner back on with either alcohol or hand sanitizer. I always keep extra socks handy, in case I have volume changes in my limb throughout the day and need to maintain a secure fit on my socket.
These supplies are especially helpful for beach trips, which in my case happen pretty routinely. It's critical to get all the sand and saltwater off your prosthesis and liner after a swim to avoid any internal damage to the hardware and itching inside the liner.
Of course, sweat happens in places other than your residual limb, especially in summer. That brings me to my next subject: breathable fabrics. Leg amputees use at least 30 percent more energy when walking than the average able-bodied person, and some days it feels like 200 percent more. Comfortable cotton clothing and shorts give me easy access to my prosthesis, cuts back on overheating, and makes me less irritable when the inevitable liner issue or other amputee problem arises in the middle of a trip to Disney World. Keep in mind that wearing shorts will expose your prosthesis and offer less protection than pants offer. Companies such as Alleles and UNYQ offer beautiful and protective prosthesis covers that can keep damage at bay and let you express yourself via vibrant colors and designs. They're often covered by insurance as durable medical equipment.
Sandals and flip-flops are really what kick me into the summer vibe. As my first amputee summer approached, I dreaded the thought of having to wear sneakers and boots in the middle of July. I worried my five remaining toes would never see the sun again. After much trial and error, I have learned that I can indeed wear sandals with some minor modifications. Here's the trick: the sturdier the straps, the better. No one wants a shoe flying off mid-step (and trust me, it can happen), so I go for shoes that wrap well around my foot shell. If you prefer to wear slides or flip-flips, try a heavy-duty Velcro and line up a piece both on the bottom of your foot shell and on the flat part of your shoe. This will create more grip. (Velcro tip courtesy of @fleur_de_lis_amputee.)
Finally, there's the issue of mobility aids. We all spend more time outdoors when the weather's fine and the sun is shining. That usually translates into more walking, more sweat, and more stress on the residual limb, and so forth. When you don't feel like dealing with those issues on a given day, there is absolutely nothing—I repeat, NOTHING—wrong with using crutches or a wheelchair, even if you might be capable of walking. When we overexert our residual limb, blisters and bruising can form, therefore making it difficult to walk in the days that follow. And if you're too busy and active to manage the sweat in your socket, your leg will eventually just slide right off, leaving you stranded.
There's nothing shameful or weak about taking care of yourself. That's the golden rule of living your best hot amputee summer. Know your limits, listen to your body's cues, and make the adaptations you need. Bonus points if you can get a friend or family member to push you around in a wheelchair smoothly enough that you don't spill your margarita.
Alexandra Boutté writes every week at her blog, Limbitless Sunshine. She's now a regular member of Amplitude's writing team and will be contributing to our newsletter once every six weeks. You can follow her on Instagram @limbitlesssunshine.